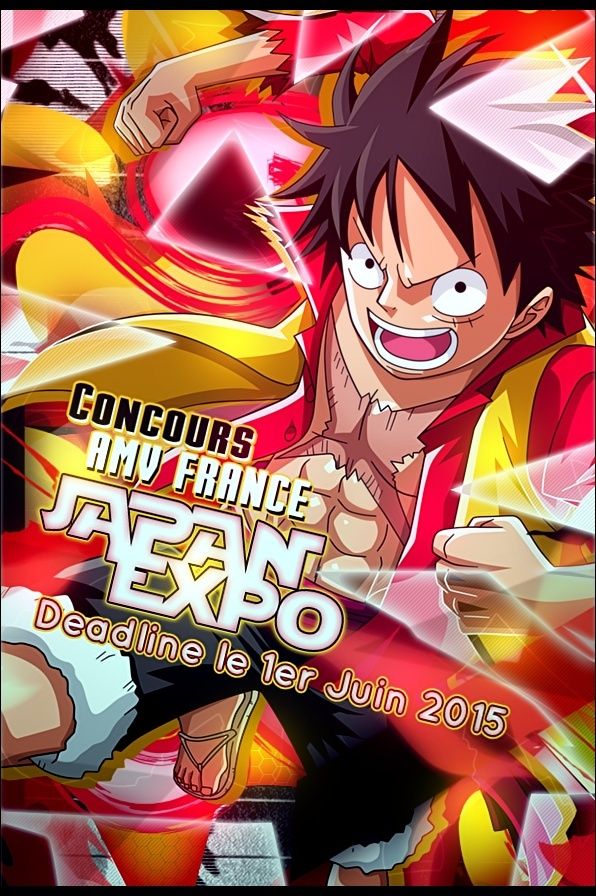 English Rules
Japan Expo 2015
Deadline 1st June
◄ Here we go again :
The 15th Japan Expo contest officially starts now! Similar to previous years, we expect a large number of participants, ready to submit their AMVs - each better than the next ! Your goal? First place, of course. Competition will surely be tough, but you never know, for the next one to be immortalised as a legend might just turn out to be you.
◄ Exclusive rights :
As you may already know, our contest requires entries to be exclusive, in order to ensure an enjoyable experience for everyone. This is something we take pride in, seeing as all finalist videos will be shown on the big screen, for the public of Japan Expo to enjoy.
Thus, in order for your video to be taken into consideration you must mention « Japan Expo 2015 » as the contest for which it has been created. This can be done in the outro. A Japan Expo logo will be provided, should editors wish to include it in their videos.
Logo for black background
Logo for white background
PSD
◄ Finalists and favourites :
The ranking will be split in two categories, as follows : Finalists and Favourites.
Favourites will be screened during the convention in the AMV-France booth, and they will be ranked according to the crowd's reaction !
The Finalists will be ranked by a judging team composed of 3 members : 2 French judges and 1 International judge. Final rankings will be revealed on the last day of Japan Expo. The editors who manage to achive a Top 3 position will be awarded with prizes consisting of collection figurines ! The same applies to the winner of Public's Choice prize.
Note: Should one editor win both a Top 3 position as well as Public's Choice, he will be awarded two different figurines.
◄ Registration :
We made a website actually. We inform you when it is ready with a special announcement !
◄ Useful information :
The Anime Music Videos must be created using Japanese cartoon footage exclusively : anime, or manga sources. Use of pornographic or extremely violent footage will disqualify your video. Such a decision is final. Uploading your video on other streaming or social media sites is forbidden until the results of the contest have been published.
If you have a problem or a question, contact :
kaohmin@amv-france.com
Last edited by JerichoAMV on Tue Mar 17, 2015 7:44 pm; edited 1 time in total
hmmmm considering it seriously
ill be there

Drunkenpony

[AMV Greece] Staff





Posts

: 98


Reputation

: 1


Join date

: 2014-07-28



John john spent at least 1 day on this one
JerichoAMV wrote:John john spent at least 1 day on this one
NOWAY

Drunkenpony

[AMV Greece] Staff





Posts

: 98


Reputation

: 1


Join date

: 2014-07-28



---
Permissions in this forum:
You
cannot
reply to topics in this forum